Shree Aakashh Tradex
In a world full of pollution and hazardous products, we are pleased to introduce a new range of pure and eco-friendly products. Shree Aakashh Tradex takes extreme pleasure in promoting a green environment by offering Areca Palm Leaf Products and Sal leaf Products. We took this initiative to find a sustainable and eco-friendly alternative to plastic disposable products.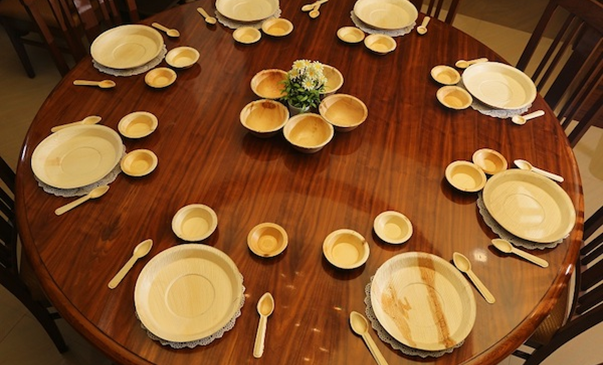 The world is changing, and it's time we adapt to smart and sustainable solutions that have a positive impact on the future.
Our mission is to offer our clients the best guarantees in terms of quality, safety and service.  
We would like to help you make your food look great at all moments and for any occasion.
Our packaging solutions are 100% compostable, eco-friendly and easily accessible for commercial and residential use.
We strive to bring to you new and innovative concepts that support our green initiative, which aims to eliminate the use of plastic products.
That's not all, we work with each of you individually and provide customised, cutting-edge solutions that work hand-in-hand with your sustainable efforts.
As much as we are committed to the environment, we are equally devoted to you and ensure that our services and solutions exceed their expectations always.
When you choose NATURAL ELEMENTS, you will witness not just bespoke eco-friendly products, but also friendly local service and quick delivery.
Why Us?
Our organization believes in ethical business practices and aims to promote eco-friendly environment with innovation and development. Our products are known for its fiber strength and light weight. Therefore, we stand as a consumer friendly as well as environment friendly organization.